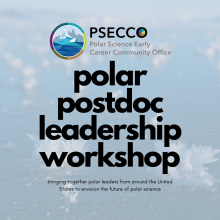 The Polar Science Early Career Community Office is excited to announce that the 2023 Polar Postdoctoral Leadership Workshop (PPLW) will be taking place in the Front Range of Colorado, from May 15 to 19, 2023. The workshop will bring 20 US-based postdoctoral researchers studying Antarctic and Arctic topics together from across the country to activate leadership skills that they can bring into their future careers. Participation in the workshop is free and travel support will be provided (more details below). 
What is the PPLW?  PPLW is the fourth iteration of the Next Generation of Polar Researchers Leadership Symposium, a multi-day workshop where the future leaders of the polar sciences come together to engage with current and future polar science topics and access skills and training that give them the confidence to step into leadership roles in our field. An outcome of the workshop will be a recommendation to the community about how to participate in leading the polar science community towards a new academia that works for all. 
Why are we running a PPLW? Postdocs are often the scientists who are at the very leading edge of research, thus having amazing potential to shape the field, as well as those who will be leading polar science into the future. We are excited to have the opportunity to bring together polar scientists from across disciplines to engage with each other and to empower their leadership for their future careers. This workshop is being shaped by polar postdocs for polar postdocs!  
Workshop details will be populated in the tabs below as they are finalized, and workshop attendees will communicated with via email. Please email psecco@colorado.edu with any questions about the 2023 PPLW.