Check out our board of opportunities with tags including 'Conferences/Workshops', 'Professional Development', 'Funding' and early career development 'Positions'. Note: our 'Positions' tag will not cover academic appointments (such as Master's, PhD, postdoctoral researcher, or research scientist positions) at this time, but instead will highlight those specifically made to represent polar early career scientists (e.g., an early career advisory board seat). If you have an opportunity to share, please get in touch with us at psecco@colorado.edu!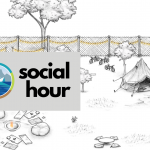 PSECCO Early Career Social Hour - June 2022
PSECCO event/opportunity
Join other polar early career scientists from all over, to connect, network, & build community at PSECCO's Early Career Social Hour in the fun virtual world of 'Topia'!
Topia is an interactive and unique way to connect with others remotely, in a virtual setting built specifically for this PSECCO Social Hour. Sit and chat with other polar scientists who do science where you do, or move to gather with other folks chatting around a campfire. The cool thing about this world is that you decide who you chat to and where you go within it.
PSECCO / NSF Polar Program Officer Chat for Early Career Scientists
PSECCO event/opportunity
Join the Polar Science Early Career Community Office and the National Science Foundation Office of Polar Program (OPP) Officers on July 12 from 3pm to 4.30pm ET for an entry-level conversation about what the OPP and its relevance to you as a polar early career scientist!
The first hour of the call will be share an entry-level overview of the Office of Polar Programs, and information directly relevant to polar early career scientists. Some questions that may be covered on the call include: