Check out our board of opportunities with tags including 'Conferences/Workshops', 'Professional Development', 'Funding' and early career development 'Positions'. Note: our 'Positions' tag will not cover academic appointments (such as Master's, PhD, postdoctoral researcher, or research scientist positions) at this time, but instead will highlight those specifically made to represent polar early career scientists (e.g., an early career advisory board seat). If you have an opportunity to share, please get in touch with us at psecco@colorado.edu!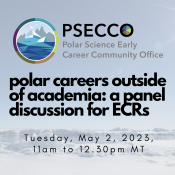 Polar Careers Outside of Academia: A 2nd Panel Discussion for ECRs
PSECCO event/opportunity
Wanting to know more about non-tenure track faculty jobs and what opportunities exist for polar scientists beyond academia? The Polar Science Early Career Community Office (PSECCO) is hosting its second panel to discuss opportunities beyond academia for polar scientists. What you learn here will absolutely be transferrable to jobs outside of polar science too, so be sure to spread word of this event far and wide!