A Showcase of Projects Funded by PSECCO BAJEDI Micro-Grants in 2022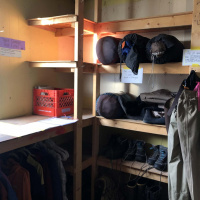 In the fall of 2022, PSECCO launched its first Belonging, Accessibility, Justice, Equity, Diversity and Inclusion (BAJEDI) Micro-grant Solicitation and ended up funding three different proposals to kick off the program. The BAJEDI Micro-grant program was created to support US-based early career researchers who had ideas of how to advance BAJEDI principles in polar science but needed a little funding to bring those ideas to fruition. These awards are flexible in what they can support, as long as the ideas proposed support the work of historically excluded scholars in the polar sciences, bring polar education to historically excluded communities in the polar sciences, or advance the work of a person, program or group that is already doing that work. Here we are excited to share two examples of funded BAJEDI Micro-grant projects that have been wrapped up over the past year.  
Ph.D. students Maya Thomas and Andrew Corso from the Virginia Institute of Marine Science at the College of William and Mary used PSECCO BAJEDI Micro-Grant funds awarded in fall of 2022 to focus on helping 5th grade students from largely underrepresented minority backgrounds in Hampton, Virginia gain exposure to career possibilities in marine science as well as inspire curiosity in science generally and polar research in particular. They provided two different experiences to around 100 5th grade students from Mary S. Peake Elementary School and Cooper Elementary Magnet School. Thomas and Corso connected with students virtually when they were doing their research at Palmer Station, Antarctica, and they also brought in zooplankton samples, tools used to collect samples, and other items of interest that they collected from Antarctica into the classroom for students to investigate.  A microscope and additional accessories were also donated to each school to support the students' ongoing curiosity and to empower them to collect samples and investigate those samples themselves.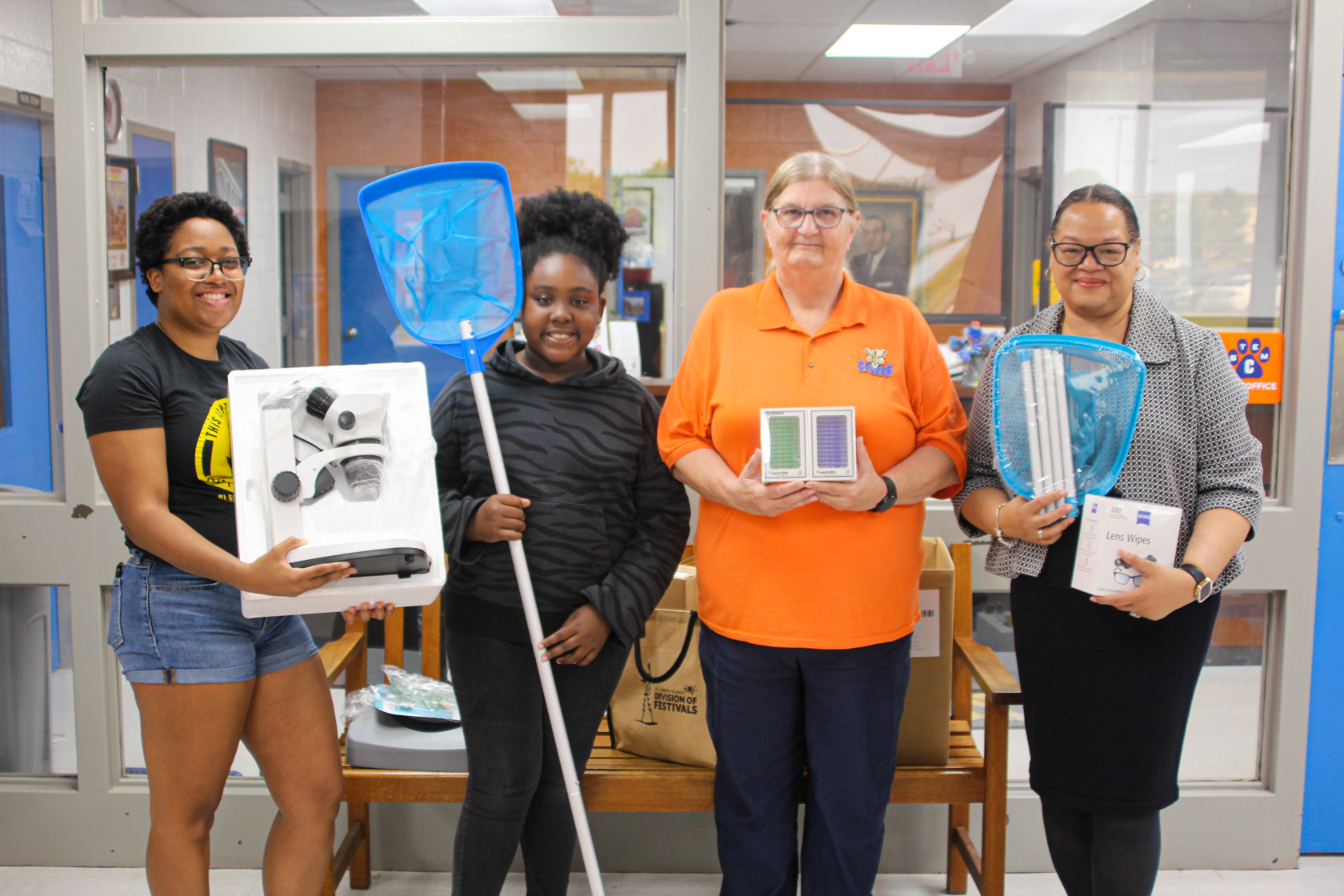 Students and teachers show microscopes and additional equipment that was purchased for their school through one Micro-grant funded project. 
Ruby An, another BAJEDI Micro-Grant recipient, used the funding to help ensure all people have access to high-quality essential gear for fieldwork at the Toolik Field Station in the Arctic. Funds were used to purchase gear such as protective bug gear, rain gear, winter jackets, and fleece clothing to help stock a community Gear Closet, which is available for free for everyone in the community to use.  The Gear Closet was recently moved to a centrally located space with the capacity to grow, and Ruby An helped inventory gear and create a system for checking out items. Some of the gear can be reserved in advance online, and some will be available for last-minute needs.  Gear was also collected from other locations at the Field Station, community members have made and continue to make donations to the collection, with future donations in the works now that more people know about this resource.  In an effort to ensure that the Toolik Gear Closet gets more use from folks who need it in the future, the inventory will be available to view on the Toolik's website as well as Toolik's other channels of communication.  The expectation is that as the inventory grows over time and more people learn about the opportunity, it will help reduce some of the financial barriers to doing fieldwork in the Arctic for early career scientists and others who may not already be equipped with gear to carry out such fieldwork.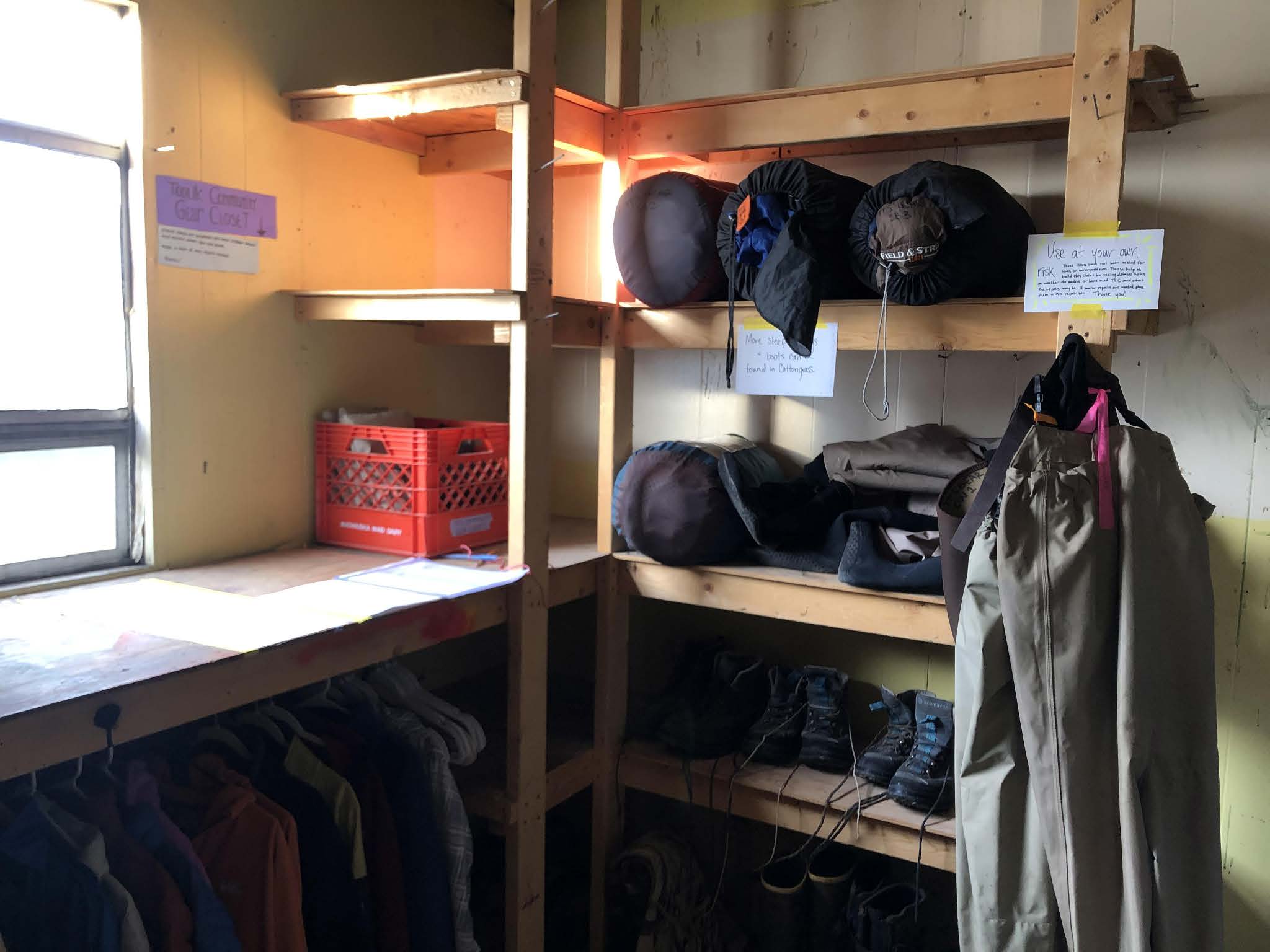 The community Gear Closet, located in the Science Workshop at the Toolik Field Station in the Arctic, includes items purchased through one Micro-grant funded project. Photo by Haley Dunleavy/TFS. 
Interested in pursuing your own idea that advances BAJEDI in the polar sciences? Apply for a 2023 BAJEDI Micro-grant!