PSECCO's first panel on careers outside of academia a success!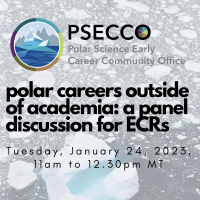 On January 24, 2023, PSECCO held its first panel sharing careers outside of academia for polar scientists, featuring: Dr. Will Burt, Senior Marine Chemist at Planetary Technologies; Dr. Sam Dorsi, Science Project Manager for Polar Field Services / Battelle ARO; Dr. Morgan Seag, Global Mountains Director for the International Cryosphere Climate Initiative; Dr. Gifford Wong, a Research Staff member at the IDA Science and Technology Policy Institute; and Dr. Colleen Strawhacker, Program Director for the Arctic Sciences Section in the Office of Polar Programs at the National Science Foundation. 
That panel spoke to many of their experiences, including what they perceived to be the best parts or most challenging parts of transitioning to a career in their current position from where they started, and touched on what they perceived to be transferable skills they had gained from time in academia that are relevant to what they do today. While everyone on this panel did have PhDs, they also spoke to opportunities that are available for polar scientists with bachelor's and master's degrees as well. The event was not recorded to create a welcoming space for the panelists to share transparently about their experiences. If you missed this event, and still want to learn about more careers outside of academia, be sure to register here for our next panel on the topic happening on May 2, 2023, which will be featuring different panelists. 
There were lots of links and resources shared in the chat during the event, and we have compiled them here for you to check out (listed in the order by which they were posted): 
We thank you for your continued engagement in the PSECCO Community and look forward to sharing more resources with you through time! If you have any questions about this event, or other upcoming events mentioned at the panel, please don't hesitate to connect with us at psecco@colorado.edu.