Call for Early Career Scientists to Sit on the PSECCO Advisory Board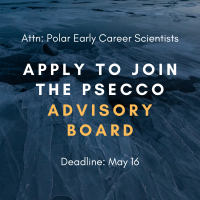 The Polar Science Early Career Community Office (PSECCO) invites US-based early career polar scientists with a research focus on the Antarctic, Arctic, or high alpine regions to apply to serve on the PSECCO Advisory Board. PSECCO is a new community-building and support effort for early career scientists focused on promoting accessibility, inclusion and diversity in the polar sciences, funded by NSF and housed at the University of Colorado. 
What? The advisory board will provide strategic guidance to help shape PSECCO activities that support the early career polar science community, will be available as a resource for the PSECCO Director, and will serve on PSECCO selection committees. Board members will serve a two-year term and will participate in quarterly board meetings.  
Who? The advisory board will consist of seven established polar scientists with different expertise, and four polar early career scientists, including at least one representative from the United States Association of Polar Early Career Scientists. A range of early career stages and disciplines, including non-field research, will be represented.  Members of the board will be compensated up to $1200 per year for their time.  
Apply! As an organization committed to enhancing diversity and inclusion in the polar sciences, members of groups traditionally underrepresented in STEM disciplines and those with a demonstrated passion for diversity, equity, accessibility and inclusion leadership are particularly encouraged to apply. All applicants should be based in the US but are not required to be US citizens.  Please complete this short application form to indicate your interest by May 16, 2022.