PSECCO releases its 2022 BAJEDI Micro-grant Solicitation!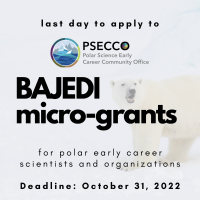 Proposal Deadline: October 31, 2022 
Review timeline: Grant applicants will be notified in mid-November  
Application: https://docs.google.com/forms/d/e/1FAIpQLSebr80h-j4B5MAecRiEyIsbASheHMi5srQWHeujT0a18sXbiQ/viewform?usp=sf_link  
Rubric: Attached as a PDF on the left - if you have comments or feedback on the BAJEDI Microgrant rubric you can send that direct feedback to psecco@colorado.edu
Description: 
The Polar Science Early Career Community Office (PSECCO)* is committed to enhancing diversity and inclusion, and working towards building an inclusive and just environment in the polar sciences. To support this mission, PSECCO is excited to announce the solicitation for individuals and organizations to apply for PSECCO Belonging, Accessibility, Justice, Equity, Diversity and Inclusion (BAJEDI) Microgrants!  
Do you have an idea that will advance BAJEDI in the polar regions but need a little funding to bring that idea to fruition? PSECCO is looking to support people or organizations with plans that will lead to tangible impacts in these areas. PSECCO has $5000 to distribute in this 2022 BAJEDI Micro-grant cycle, and applicants may apply for up to $1000 of those funds. There are no limitations on allowable expenses. Awarded funds can cover all expense categories (e.g., salary, travel, stipends, other costs) associated with carrying out the proposed idea. This should support the work of historically excluded scholars in the polar sciences, bring polar education to historically excluded communities in the polar sciences or it should advance the work of a person, program or group that is already doing that work. 
To be eligible for funding applicants must:  
Be an early career scientist ranging anywhere from an undergraduate student to seven years or less since your last terminal degree or an organization whose activities are driven primarily by polar early career scientists 

Do research/science focused on or related to polar regions 

Apply for support that has a tangible impact on United States (US) polar science (– due to US-public funding), but funding is not restricted to US-based individuals or organizations 

If funded, submit a 500-word report on the BAJEDI Micro-grant effort, along with two photographs from carrying out the idea.  
PSECCO is committed to supporting and creating opportunities for those from backgrounds underrepresented in the sciences, people from groups historically excluded from the polar sciences are encouraged to apply.    
*PSECCO is a community-building and support effort for early career scientists with a focus on promoting accessibility, inclusion and diversity in the polar sciences, funded by NSF and housed at the University of Colorado.  
If you have any questions about PSECCO BAJEDI Microgrant solicitation, please email psecco@colorado.edu for more information. 
Frequently Asked Questions: 
Can I apply to a BAJEDI Micro-grant jointly with someone else? Yes. If you are applying for funds jointly for the same project/purpose, please submit two separate applications with the same answers for the content of the application relevant to the micro-grant project with the exception of the places with your personal information (which you should each provide separately). Then note under the question 'Is there any additional information that you would like to share with the review panel?' that you are jointly applying for funds for the same project/purpose. 

Can I apply to a BAJEDI Micro-grant as an organization? Yes, sort of! You can apply for funds as an individual to support a project in an organization as long as it conforms to the parameters outlined above. If you are doing so on behalf of an international organization, we recommend a US-based individual within the organization submits the application. 

Can I apply to a BAJEDI Micro-grant as an international organization? Contact psecco@colorado.edu to discuss your pitch with the PSECCO Director prior to applying.