We organize events to directly support the polar early career community, and sometimes they fall outside the categories of 'Trainings/Workshops' and 'Community-Building'. Check out these events below!
Check out our recorded professional development events on the PSECCO YouTube playlist, or find detailed information for past recorded events under the 'News' page.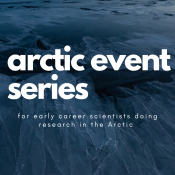 Building inclusive environments and navigating power imbalances in Arctic fieldwork: a panel discussion
PSECCO event/opportunity
Join us for a panel discussion on how to build an inclusive fieldwork environment and equip yourself for navigating potential power imbalances prior to heading to the Arctic this summer. Learn from an array of panelists who have 'been there, done that' and learned a lot along the way about what contributes to a positive fieldwork experience, and how to work towards that prior to stepping foot in the Arctic.
Panelists for the event include: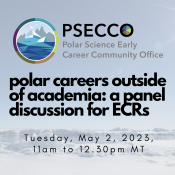 Polar Careers Outside of Academia: A 2nd Panel Discussion for ECRs
PSECCO event/opportunity
Wanting to know more about non-tenure track faculty jobs and what opportunities exist for polar scientists beyond academia? The Polar Science Early Career Community Office (PSECCO) is hosting its second panel to discuss opportunities beyond academia for polar scientists. What you learn here will absolutely be transferrable to jobs outside of polar science too, so be sure to spread word of this event far and wide!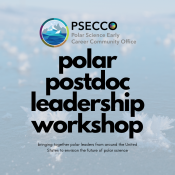 Polar Postdoc Leadership Workshop
Conferences/Workshops
The Polar Science Early Career Community Office is excited to announce that the 2023 Polar Postdoctoral Leadership Workshop (PPLW) will be taking place in the Front Range of Colorado, from May 15 to 19, 2023. The workshop will bring 20 US-based postdoctoral researchers studying Antarctic and Arctic topics together from across the country to activate leadership skills that they can bring into their future careers. Participation in the workshop is free and travel support will be provided (more details below).